What's So Great about the Great Outdoors?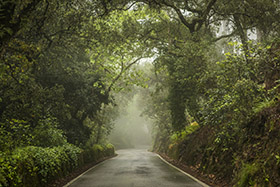 The past year likely ranked high on your list of stressful years. A global pandemic, an uncertain future, political division, illness, and financial strain all added to your stress. Everyone hopes 2021 is a better year, though it will certainly have its own stresses.
Knowing that, how do you plan to manage it this time around? Instead of turning to food or unhealthy lifestyle habits, why not make use of healthy stress-reducing techniques? Not sure where to start? Get outside!
One of the simplest and most overlooked ways to improve your mental health is to spend time outdoors. Why should you go outside when you're feeling stressed, anxious, or depressed? Here are five reasons.
1: It's Distracting
When you're stressed, anxious thoughts may consume you. In the heat of the moment, anxiety is all you can think about. You feel the world is going to end, and there's nothing you can do about it. Until you get outside. Going for a walk outside is a great way to get your mind off the things that are troubling you. Instead of drab interiors, you can look at the sky, grass, trees, plants, flowers, waters, and possibly wildlife. The change of scenery, fresh air, and sunshine can help clear your mind and distract you from your stress.
2: It's D-Lightful
While you can get some vitamin D from foods such as eggs, fatty fish, beef liver, cheese, mushrooms, and fortified milk, cereal, and juice, it's hard to get the daily recommended amount without going outside. Many people are deficient in vitamin D and don't know it. The best way to get vitamin D is from exposure to sunlight. This essential vitamin carries out many vital functions in the body, but it also plays an important role in supporting mental health. A lack of vitamin D is associated with an increased risk of depression.
3: It's Calming
Studies show that spending time in nature, away from the hustle and bustle of the city, has a calming effect on your body. It reduces your blood pressure, relieves muscle tension, lowers your heart rate, and slows the production of stress hormones, which calms your fight-or-flight response. When indoors, you're surrounded by all you have to do, noise, and reminders of your problems. The beauty of nature, exposure to vitamin D, and a change in scenery are helpful for combatting depression, stress, and anxiety. After spending time outside, it's likely your mood will improve, you'll feel refreshed and more at peace.
4: It's Energizing
Time spent outside is known to increase productivity, improve focus, and boost creativity. Taking regular breaks throughout your day to step outside doesn't ruin your focus. It actually recharges you, allowing you to finish your day strong. Spend extended time outdoors on the weekend to recharge after a busy week and prepare for the week ahead.
5: It's Healing
Combining exercise with sunlight, fresh air, and nature is one of the best ways to boost your physical and mental health. It's recommended to get at least 30 minutes of moderate intensity exercise most days of the week. That includes those days when you don't visit your trainer. Combining your workout with the great outdoors gives double the benefit. Go walking, jogging, or hiking, take a bike ride, go rowing or swimming or give tennis or pickleball a try. Just get out and get active! Your physical and mental health will thank you.