A Diabetic Support System
How can you best support a loved one who has diabetes?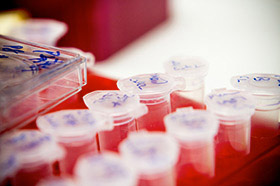 A diagnosis of diabetes leads to a challenging road. Those with diabetes can no longer eat whatever's in the kitchen cabinets. They can't order their favorite fast food without dealing with the consequences on their blood sugar. Overall, life becomes a little more complicated.
Managing a chronic disease like diabetes requires a lot. Careful attention must be given to diet choices. Blood sugar levels must be constantly monitored. The right balance of costly medication must be found. And healthy lifestyle choices must be made, day in and day out.
Like any other major health condition, diabetes can't be managed alone. Having a support system can make a huge difference in the successful management of the disease and the diabetic's quality of life. Do you know someone with diabetes? Here are practical ways you can come alongside them as a support.
Educate Yourself
Whether your loved one has type 1, type 2, or gestational diabetes, you need to learn all you can about the disease. Don't believe the myths or false claims about the disease. Dig in deep to find the truth. You'll be a better supporter if you understand how diabetes works, what makes it worse, what helps, the best ways to treat, and how to prevent complications. Plan to attend doctor visits so you can stay in the know about the status of your loved one's condition. Come prepared to ask questions and take notes.
Support Their Diet
Whether or not a diabetic needs medication or insulin to manage their condition, it's crucial that they watch what they eat to avoid blood sugar fluctuations. It's not easy to make diet changes. It's a lot harder when those around you are eating foods you should avoid. One of the best ways to support a loved one with diabetes is to join them in their healthy diet. Doing so may mean giving up your favorite foods, but you're doing it for your favorite person. Besides, a diabetes-friendly diet is healthy for everyone.
Be Active Together
Exercise is crucial for managing diabetes. Physical activity helps lower blood sugar, and so does losing weight. However, it can be hard to stick to a new exercise routine. Having an exercise partner is one way to stay motivated and accountable. Join your diabetic loved one in their commitment to exercise. Find a workout or two that you both enjoy and make it a regular part of your weekly schedule. Better yet, get them signed up for some personal training!
Stay Positive
Adopting lifestyle choices that are necessary for managing diabetes isn't easy. Falling back into old habits is tempting and mistakes will be made along the way. While you want your loved one to make smart choices and avoid the possible negative effects of the disease, they have to be the one to make the choices. You can encourage and come alongside them, but try your best to avoid nagging, lecturing, or policing their actions. When they do the right thing, praise them.
Help Relieve Stress
Stress is a natural part of life, but it also raises blood sugar levels. When this happens, it becomes harder to manage diabetes, which causes more stress. To support your loved one, help them learn healthy ways of managing stress and join them in their endeavors. Exercise, watch a funny movie, talk it out, or attend a diabetes support group together.